ARTWALK: TURNSTYLE CELEBRATES 10 YEARS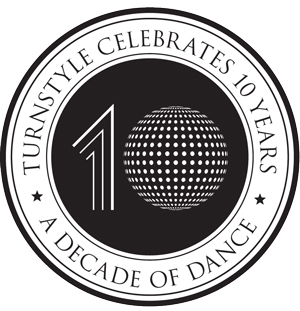 TURNSTYLE on the ARTWALK: A 10 YEAR CELEBRATION!!
Friday, June 7th 2013 (6-10pm)
On June 6th 2003, Turnstyle opened its doors for the first day of business ever for the downtown Artwalk. At the time, the Artwalk had not grown into the amazing event it has become today. In 2003..it was 5 art galleries & Turnstyle. That was it.
Today..the artwalk has grown into many, many more galleries, shops, restaurants and has become a street party-like atmosphere. There are dj's, bands, fire spinners all over the path of First Friday's in Richmond now. Turnstyle was the first to put music outside for this event, a tradition that continues as we near the 10 year anniversary of Turnstyle on the Artwalk. It's been an amazing decade for dance in Rva and so we celebrate… Join us!
ALEXANDER KEY: A new series of pop art paintings from this localized amazing artist.
TEAM ZAPATA (DC, house)
Juan Zapata & his brother Hugo make up the house DJ Duo – Team Zapata. Juan has a rich history in RVA stemming from his time as one half of the originally Rva based dj / production duo – The East Coast Boogieman. Now spinning & producing music in DC, Turnstyle welcomes Juan & Hugo back to Rva to throw down a proper set of house music on vinyl.
TONY DAY b2b DERICK ATKINS (RVA / DC, House)
Funky house beats from longtime Turnstyle friends / supporters of the underground dance music culture in RVA tag a set of the funkiest house jams ever. Don't miss it!
JESSE SPLIT (RVA, house / breaks)
Turnstyle's co-owner, house & breaks music specialist & resident repair technician kicks off the event with some classic tracks on wax.
Free giveaways & a storewide anniversary sale for this event. Music starts at 6pm & goes til 10Pm. It's always a free event, all ages are welcome to attend.