(NYC) BIG DRUM AND BASS PARTY!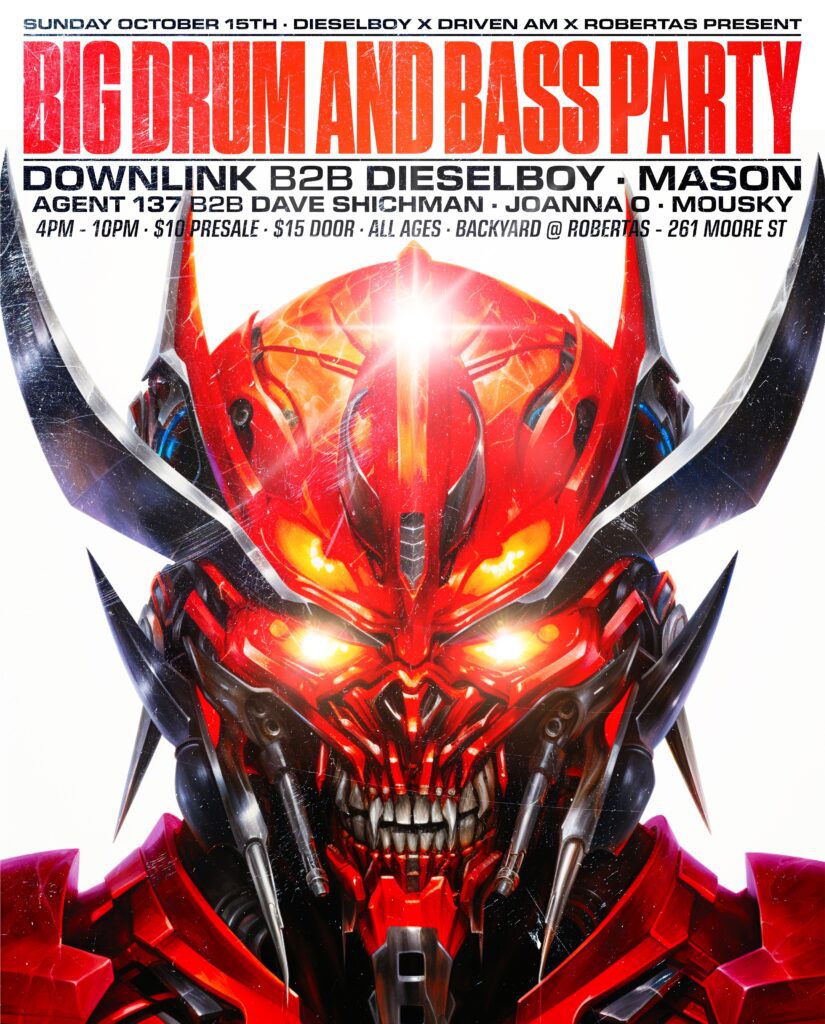 DIESELBOY X DRIVEN AM X ROBERTA'S present: BIG DRUM AND BASS PARTY!!!!
After an amazing sold-out party first edition in August, we return to the infamous backyard of Robertas in Bushwick with an upgraded lineup!
DOWNLINK B2B DIESELBOY
MASON
DAVE SHICHMAN B2B AGENT 137
JOANNA O
MOUSKY
venue
Roberta's Pizza
261 Moore St, Brooklyn, NY 11206
02:00PM – 10:00PM – Outdoor, Daytime event
admission
https://ra.co/events/1770063
Tickets are HIGHLY recommended, this event is expected to sell out.
$10 tickets in advance via our friends Resident Advisor.
This is an ALL ages event! You are welcome to bring your family! If you bring young children please consider ear protection. As always, earplugs will be available for free at the merch table, however we encourage professional ear protection for all attendees, especially children.
SAFER SPACES POLICY
Driven AM events are intended to be a safe space for everyone, and we maintain a strict zero-tolerance policy for harassment, unwanted attention/contact, bullying, or negative behavior. Violators will be escorted off the premises by security with no refunds.
Venue: Roberta's Pizza
Address: 261 Moore St
Door: $10 - $15
Tickets: https://ra.co/events/1770063