PUSH: THE INSIDERS, STRESS, TSS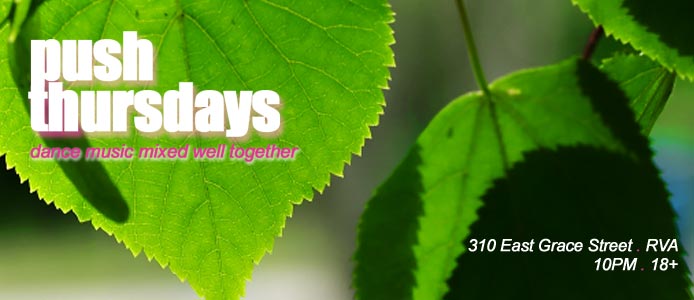 THURSDAY, JUNE 30th @ PUSH: The INSIDERS
THE INSIDERS (INTRIGUE / NU:DIRECTIONS / 31 RECS / BRISTOL, UK)
Ben Payne and Joe Wills aka The Insiders have released music on some of the most prestigious labels in the drum & bass scene over the past decade.
Their releases have appeared on Record Labels:
Renegade Recordings, Metalheadz, Creative Source, 31 Records, Defunked, Nu Directions, Integral, Frontline and Good Looking (as Catch 22). The pair are resident dj's at the renowned drum & bass club
"Intrigue" in their hometown of Bristol. In addition to Music releases & Dj'ing, the Insiders receive regular airplay on BBC Radio 1, and is featured in the record boxes of International DJ's – Fabio, LTJ Bukem, Goldie, Storm, A.I., Icicle and Brazil's DJ Marky.
Intrigue Music Label: In 2009 Ben (Soundscape) set up the Intrigue Music label for their own deeper brand of d&b and to serve as an outlet for fresh material from new and established producers. Forthcoming releases by Intrigue music include: 'Many Things', Ben Soundscape featuring Random Movement (Intrigue006), and The Insiders "Limelight" (Intrigue007) both released in Summer 2011. Other label releases set for 201 include: Creative Source, Nu Directions, Prestige Music and Rubik.
Recent DJ appearances have included: Miami Ultra Week, Glastonbury Festival, Sun & Bass, Bristol Festival, with performances in the USA, Canada, Japan, Germany, Norway, France, Holland, Italy, Poland, and Switzerland.
DJ STRESS (2TUFF / DC)
Hailing from the Washington, DC area, DJ Stress (aka Rich) has been involved with the drum & bass movement in America since it's humble beginnings. He was introduced to the rave scene in 1992 and fell in love with the early breakbeat/hardcore sound and continued to follow it as it evolved into jungle/drum & bass. Fascinated by watching the DJs spin, he was inspired to buy turntables in 1994. A couple of years later, he teamed up with the infamous 2Tuff crew and was a prominent DJ in the DC drum & bass scene during the "Golden Years" and afterwards. At that time 2Tuff consisted of DJ Slant, DJ Stress, MC Mecha, MC Nes, Andrew Cerutti, and Peter Helms.
DJ Stress has performed alongside such internationally known DJs such as: Grooverider, Fabio, Andy C, Ed Rush, Optical, Matrix, Decoder, Tech Itch, LTJ Bukem, DJ Trace, Dieselboy, to name a few. He's also spun at legendary events like Buzz, Revolution & Engage (DC Armory w/Ultraworld), The Winter Music Conferences 98 & 99, and more.
TURNSTYLE SOUNDSYSTEM (Turnstyle / 97.3FM WRIR / RVA) Catch a rare tag set from Push residents Jesse & Joanna of Turnstyle with the sounds of breaks, house, techno & classic vinyl tracks.
$7 all night / Doors @ 10pm / 18+ / Godfreys – 308 East Grace Street, Richmond VA
Venue: Godfreys
Address: 308 East Grace Street