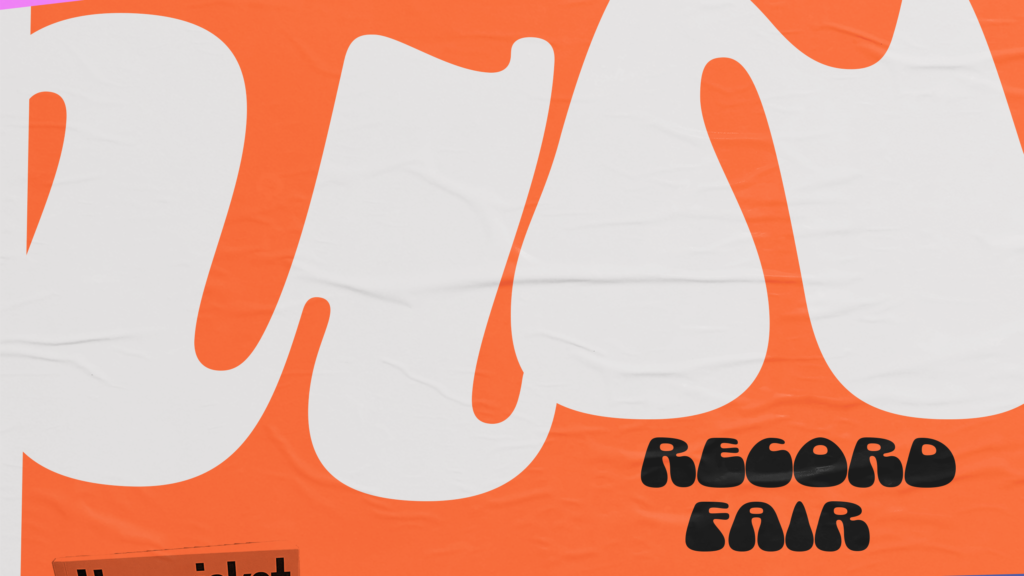 Turnstyle will have a booth for this event featuring vinyl selections: House, breaks, drum & bass, techno. Some new TS Logo T-shirts (limited edition) & some assorted merch from previous apparel vendors & a few more fun surprises.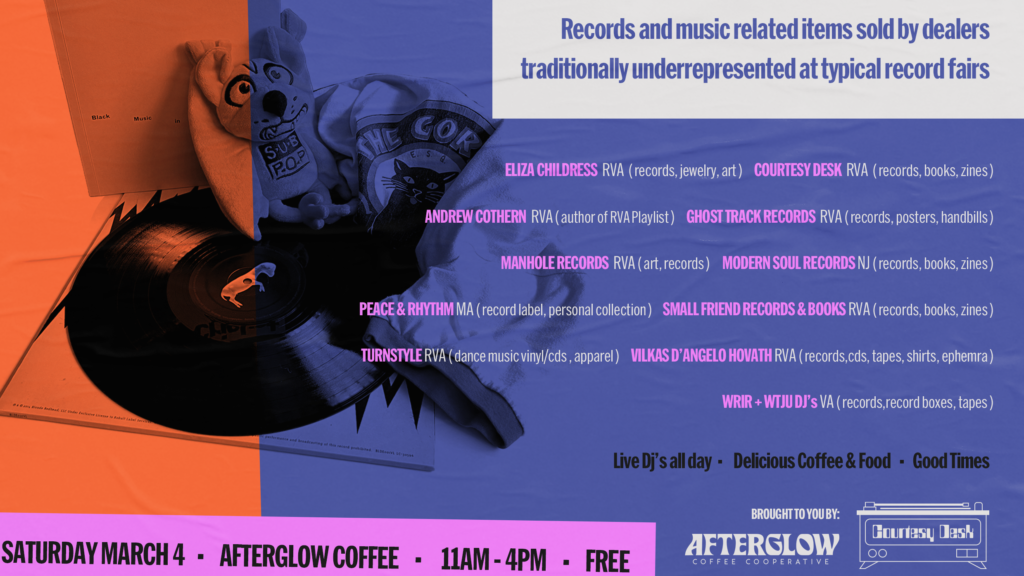 Who: Courtesy Desk and Afterglow Coffee Cooperative Present: The Un-Record Fair: Records (new and used), books, zines, and other music related items sold by dealers traditionally underrepresented at typical record fairs including DJs all day + a food truck (Tiny Vegan) Free and open to the public
Where: Afterglow Coffee Cooperative: 1719 Summit Ave, Richmond, VA 23230 / afterglowcoffee.com
When: Saturday, March 4, 2023 from 11- 4 pm
The traditional record fair can be overwhelming and feel intimidating. What makes this event special is it will be 1) A friendly, welcoming space for all to shop comfortably in. 2) It will be tabled by vendors who aren't always included in the usual east coast record show circuit. 3) Diversity is the spice of life and we want to make everyone feel welcome. Just like the clear soda that once pitched itself as the un-cola many decades ago, we are the un-record fair. We are a highly curated, fun breath of fresh air. All for UN and UN for all.
Vendors Include:
*Courtesy Desk, RVA (record, books, zines)
*Peace & Rhythm, MA (record label + personal records)
*Modern Soul, NJ (records,books, zines)
*Turnstyle, RVA (dance music vinyl/CDs + apparel)
*Small Friend Records and Books, RVA (records/books/zines)
*Andrew Cothern, RVA (author of RVA Playlist)
*Eliza Childress (art, jewelry, records)
*Manhole Records (art, records)
*Ghost Track Records, RVA (Records, posters, handbills)
*Vilkas D'angelo-Hovath, RVA (records,CDs, Tapes, prints, shirts, ephemera)
*WRIR + WTJU DJs (records,record boxes,tapes)
THIS EVENT IS FREE & ALL AGES.
FB Event Page: https://www.facebook.com/events/437941695127454
Venue: Afterglow Coffee Cooperative
Address: 1719 Summit Ave